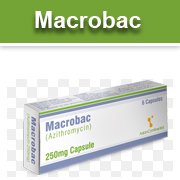 Macrobac is well tolerated with a low incidence of side effects. Most Macrobac side effects observed were mild to moderate in severity and were reversible upon discontinuation of the drug. Thé majority of side effects were gastrointestinal in origin with nausea, vomiting and flatulence, abdominal discomfort (pain/cramps), diarrhea and loose stools being occasionally observed.
Macrobac is contraindicated in patients with known hypersensitivity to Azithromycin or any other macrolide antibiotic.
Reversible elevation in liver transaminases have been seen with a frequency similar to the comparative macrolides and penicillin used in clinical trials. Transient alterations in neutrophil counts have occasionally been observed in clinical trials, although a causal relationship to Azithromycin has not been established. Allergic reactions ranging from rash to angioedema and anaphylaxis have occurred.
Macrobac in Pregnancy and Lactation
Animal reproduction studies have demonstrated that Macrobac crosses the placenta, but has revealed no evidence of harm to the fetus. There is no data on secretion in breast milk. Macrobac should be used in pregnant or lactating women only where adequate alternatives are not available.
Macrobac in Patients with Renal and Hepatic Impairment
No dosage adjustment is needed in patients with mild renal impairment but there are no data regarding Macrobac usage in patients with more severe renal impairment, thus caution should be exercised in using Macrobac Capsules in these patient. Because Macrobac is principally eliminated via the liver, caution should be exercised when Macrobac is administered to patients with impaired hepatic function.