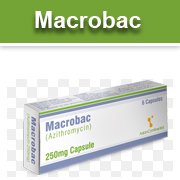 Macrobac (azithromycin) is an azalide antibiotic, a subclass of the macrolide group of antibiotics. Following oral administration, Macrobac (Azithromycin) is widely distributed throughout the body. Bioavailability is approximately 37%. Macrobac achieves peal plasma concentration in 2 to 3 hours. Pharmacokinetic studies have shown markedly higher Azithromycin levels in tissues than in plasma or serum indicating that it is heavily tissue bound, resulting in rapid distribution into tissues and high concentration within cells. Concentrations in target tissues, such as lung, tonsil and prostate exceed the MIC for likely pathogens after a single dose of Macrobac (Azithromycin) 500 mg.
Macrobac – Pharmacokinetics
A large fraction of the absorbed dose of Macrobac remains un-metabolized. There is some metabolism in the liver mainly by N-demethytation, the metabolite being excreted in the bile. Trans-intestinal excretion of the unchanged drug is also an important route of elimination. Only a small amount of the dose is excreted unchanged in the urine.
Pharmacodynamics
Macrobac acts by binding to the 50S ribosomal subunit of susceptible microorganisms and thus, interferes with microbial protein synthesis. Nucleic add synthesis is not affected.
What Is Macrobac Used For?
Macrobac (Azithromycin) is active against both Gram Positive and Gram Negative organisms and is indicated for the treatment of infections caused by susceptible bacteria in conditions listed below:
Macrobac Indications
Lower respiratory tract infections including bronchitis
Pneumonia and acute bacterial exacerbation of chronic obstructive pulmonary disease
Skin and soft tissue infections
Upper respiratory tract infections including: sinusitis, pharyngitis, tonsillitis and otitis media
Macrobac is also indicated in sexually transmitted diseases in men and women
Macrobac – Dosage and Administration
Since food reduces the absorption of Macrobac Capsules it should be given one hour before or two hours after meal.
Adults (including Elderly Patients)
For all other indications except sexually transmitted diseases, the total dose of 1.5g may be given as 500mg daily for 3 days. As an alternative, the same total dose can be given over 5 days with 500mg given on day 1, then 250mg daily on days 2 to 5. The recommended dose of Macrobac Capsules for the treatment of genital ulcer disease due to Haemophilus Ducreyi (Chancroid). Nongonococcal Urethritis and Cervicitis due to Chlamydia Trachomatis is: A single 1g (1000 mg) dose of Macrobac. The dose for the treatment of Urethritis and Cervicitis due to Neisseria Gonorrhoeae is single 2g (2000mg) dose of Macrobac.
Related Links