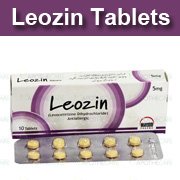 Leozin tablet is the levo-isomer of cetirizine (levo-cetirizine) with twice the affinity for H1 receptors, and rapid and long-lasting antihistaminic action, as compared to cetirizine. Leozin tablet is recommended in patients 6 years and above for the treatment of allergic conditions like allergic rhinitis, allergic conjunctivitis and chronic idiopathic urticaria.
Mechanism of Action
Leozin tablet is a potent, selective, peripheral H1 receptor antagonist with negligible effects on other receptors.
Leozine Dosage
In adults and children older than 6 years
The recommended daily dose of Leozin tablets is 5 mg (1 tablets once daily).
In children of age 6-12 years
5 mg tablet should be given in two divided doses.
In children aged 2 to 6 years
The recommended daily dose of Leozin tablets is 2.5mg (half tablet), in two divided doses.
Pharmacokinetics Properties
The time required for Levocetirizine to reach peak plasma levels (tmax) is approx. 1 hour.
Leozin tablets achieve steady-state plasma level by the second day. Volume of distribution of Leozin tablets is 0.4 / kg
Leozin tablet has not been found to penetrate into the brain.
Leozin tablet is extensively bound to blood components, approx. 7% is the free fraction (which is constant) and the fraction bound to blood cells and plasma proteins is approx. 28% and 66% respectively.
Leozin tablet is poorly metabolized (14% of the total oral dose).
After oral administration to healthy individuals, radioactive-Leozin tablets are recovered in urine and faeces, 85% and 13% respectively.
Of the oral dose, approx. 80% of Levocetirizine is eliminated unchanged in urine in 48 hours.
Though intake of Leozin tablets with food does not hamper extent of drug absorption, its speed of absorption might decrease.
Leozin Vs Cetirizine
Double affinity for human H1 receptors as compared to Cetirizine. Same effect as that of cetirizine in only half the dose (Leozin tablet 5 mg has the same clinical effect as that of cetirizine 10 mg) No effect on the QT interval.
Leozin Vs Desloratidine
As compared with Desloratadine, Leozin tablet is more effective in treating subjects with seasonal allergic rhinitis during prolonged pollen exposure. It has a more rapid and longer duration of action (1 hour versus 3 hours) as compared to Desloratadine. Leozin tablet has also been shown to be significantly superior in treating nasal congestion after the first dose.
Contraindications
Leozin is contraindicated in the following conditions;
K-hypersensitivity to the active ingredient or any of the inactive ingredients or to medicines that contain piperazine derivatives. If hypersensitivity reaction occurs, the patients should Stop treatment and immediately report to the physician.
Glucose-galactose malabsorption
Lactase deficiency
Hereditary galactose intolerance
Severe renal impairment
Related Links