J. Crew and Banana Republic, both are good places to shop for high-quality chinos and suits for men and women. There are also several other classically styled products that are similar in the portfolios of both the brands including denim, khakis, polo shirts, and tees.
That's why, many style and quality conscious Americans often find it difficult to choose one before making a purchase decision. If you typed J. Crew vs Banana Republic in a search engine and ended up here, you have reached the right place. On this page, we have published a side-by-side comparison table in order to help you choose between J. Crew and Banana Republic.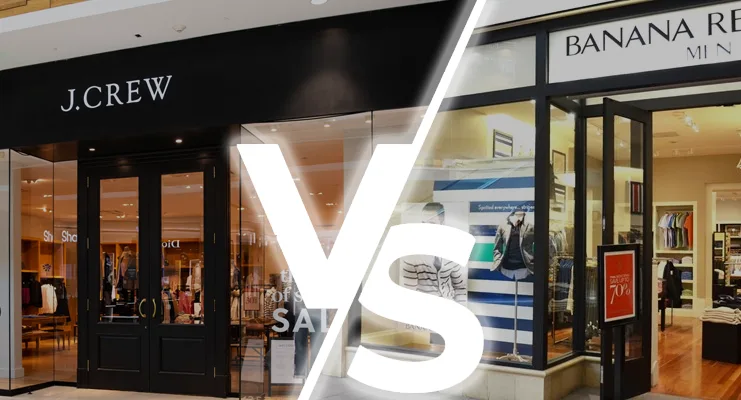 Before moving ahead, let us quickly introduce J. Crew and Banana Republic. Knowing at least the basics about a clothing brand you want to buy from often helps make a better decision and avoid disappointments.
J. Crew : Quick Intro to The Company
J. Crew has been around for well over seven decades. Originally, this clothing company was founded as Popular Merchandise, Inc., and renamed to J. Crew in 1983.
J. Crew is very popular among Preppy Style enthusiasts, mainly professionals with an advanced degree. J. Crew also owns and operates Madewell, a world-famous brand that specializes in high-quality denim jeans for women.
Banana Republic : Quick Intro to The Company
Banana Republic is a wholly-owned subsidiary of GAP, the largest clothing company in the United States, and third-largest in the world (behind Zara and H&M).
Originally, Banana Republic was founded in 1978 by Mel and Patricia Ziegler, two American fashionistas (and real husband and wife). In 1983, Banana Republic was acquired by GAP Inc.
Like J. Crew, Banana Republic specializes in classic styles with a modern twist. The clothing collections at Banana Republic Stores primarily appeal to working professionals (men and women).
In addition to Banana Republic, GAP Inc. also owns and operates some other world-famous fashion labels including Athleta and Old Navy.
J. Crew vs Banana Republic : Side by Side Comparison
| | J. Crew | Banana Republic |
| --- | --- | --- |
| Founded | 1983 | 1978 |
| Headquarters | New York, NY | San Francisco, CA |
| Type of Business | Privately-Owned | Division of GAP |
| Annual Revenue | $3 billion | $3.8 billion |
| Avg: Customer Ratings | | |
| Main Products | Cashmere Sweaters, Men's Suits, Women's Elegant Dresses, and Jackets | Suit Pant & Suit Jacket, Linen Blazer, Trench Coat, Sweaters & Cardigans, Cotton Jean, Formal Shirts, and Oxford Shoes |
| Price Range | | |
| Product Warranty | – | – |
| Area Served | Worldwide | Worldwide |
| Physical Stores | 506 | 700 |
| Amazon Store | Click Here | None |
| Official Website | Click Here | Click Here |
| Payment Options | Mastercard, Visa, AMEX, PayPal | Master Card, Discover, American Express, Visa, PayPal |
| Shipping Fee | $5 (Standard) | $9 (Standard) |
| Returns Policy | 30-Day Return/Exchange | 45-Day Return/Exchange |
J. Crew vs Banana Republic : Which One is Our Personal Favorite?
Being honest, J. Crew and Banana Republic both are very good places to shop for thoughtfully designed classics, crafted from luxurious materials.
But, with reference to this post, as we have to choose ONLY ONE… So there are a couple of reasons to go with Banana Republic instead of J. Crew.
In many cases, J. Crew can be significantly expensive than Banana Republic. Moreover, if anything goes wrong, Banana Republic offers more days to claim 100% refund or exchange. AND, there customer support representatives are also very friendly and cooperative.
NOTE: We Are NOT Associated or Affiliated with Banana Republic and We Are Not Getting Paid to Say This!
J. Crew vs Banana Republic : Join The Discussion and Help Other Customers / Shoppers
Have you already tried and tested J. Crew? or Banana Republic? (or both of these brands?). We humbly ask you to join (or start) the discussion in the comments section below and share your thoughts.
Your practical experience and opinion can help other people make better decisions and choose the right option between J. Crew and Banana Republic.