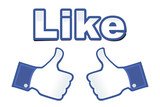 When using Facebook to grow a business, the worst action is no action, and the worst problem is invisibility – not bad perception. If you're part of the conversation you can always massage what people are saying about your brand; but if nobody knows about you, then you have no chance of growth. What this means is that you need to get involved, not only to exploit the many business opportunities available for your business, but also to develop a winning reputation.
It's a good idea to start by developing a plan that takes into account the social trends that characterize social media interaction today and organize a framework that will help make your conversations popular and relevant. Unfortunately, due to the information overload on the internet, the majority of the new comers in the world of Facebook Marketing gets confused. It is difficult for beginners to navigate through it all to make a Facebook marketing plan that works. Keep reading to discover how businesses use Facebook effectively.
Tips to Make a Facebook Marketing Strategy
It all starts with goals. If you set your goals right and know from the start what you expect to achieve from your marketing efforts, it shouldn't be too difficult to organize and implement a winning strategy. These are some of the ways established brands use Facebook to expand their reach:
Spreading The Word
Show your customers who you are, what you can do and more importantly, how your product or service can benefit the prospect.
Drive Sales
you can do this by offering existing customers special offers or starting a promotion. Just make sure they like it well enough to share it with their own social circles.
Provide People Great Customer Service
This is essential to any business but social media makes it much easier to engage with customers and find out what it is they need from you. Find out what they are saying about you and establish a good feedback loop.
Keep Them Coming Back
When you set in place an effective system and build strong relationships with your customers, they will always come back.
Related Links