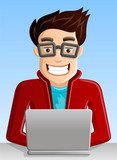 You probably already know that one of the fastest ways to get rich these days is through the internet. Why shouldn't it be? The internet is the largest marketplace in the world. Billions of dollars exchange hands every single day. Almost everything is sold on the internet every single minute of the day.
There used to be a time when only established businesses had the ability to take advantage of the internet marketplace. An internet business just wasn't for everybody back then. The cost of setting up an online store was just a bit too high for ordinary folks.
Fortunately, internet technology became widely available, and the cost of setting up an online store dropped significantly. Today, it costs less than a hundred dollars a year to maintain a website. Anybody can do business online with just a little bit of knowledge.
One of the cheapest online businesses today is through affiliate marketing. This type of business doesn't require you to have physical stocks of products. You won't need to maintain an inventory, or worry about delivery. All you need is an online presence.
Related Links