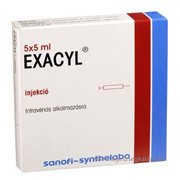 Common side effects of Exacyl (tranexamic acid) include gastrointestinal disturbances such as nausea, vomiting and diarrhea but these complaints disappear when the dosage is reduced. Giddiness and hypotension (not seen with oral administration) are occasional side effects. To avoid hypotension, the solution should be injected slowly (not faster than 1 ml per minute).
Hypersensitivity reaction may occur in rare instances and may warrant discontinuation of the medication. Dermatological manifestations like itching of exanthema may be reported rarely.
Animal studies have revealed degenerative changes in retina in alter long-term use. Patients treated with Exacyl tablets or injections are at risk of developing venous and arterial thrombosis. Exacyl should be used with caution in patients with
disseminated intravascular coagulation
(DlC).
Use In Pregnancy
Animal reproduction studies have not shown any evidence of impaired fertility or side effects on the fetus after the administration of Exacyl.
Exacyl (tranexamic acid) crosses the placental barrier and cord blood concentrations are approximately equal to maternal concentration. Since there are no adequate and well-controlled studies in pregnant women, Exacyl should only be used during pregnancy if clearly needed.
Nursing Mothers
Exacyl (tranexamic acid) is secreted in the mother's milk. Therefore it should be administered with caution in nursing women.
Pediatric Use
The limited data suggest that dosing instructions for adults can be used for pediatric patients needing Exacyl therapy.
Overdose
Symptoms of over-dosage may be nausea, vomiting and hypotension. There is no specific antidote. General measures should be taken to manage a case of Exacyl over-dosage.