Exacyl is available in two strengths and formulations.
Exacyl film-coated tablet contains Tranexamin Acid 250mg or 500 mg.
Exacyl Injection (ampoule) contains Tranexamix Acid 250mg or 500 mg.
What is Exacyl Used For?
Exacyl film-coated tablets and Injections are indicated in the following conditions:
To treat abnormal bleeding caused by fibrinolysis from female genital tract, lungs, renal tract, nasal cavity and after prostatic surgery.
To reduce or prevent hemorrhage for short duration (2-6 days) in patients with hemophilia.
To prevent or treat excessive bleeding during and following tooth extraction.
Exacyl Dosage
The usual adult dose of Exacyl Tablets is from 250mg to 500mg three or four times a day depending on the severity of the condition.
In hemophilic patients, immediately before dental extraction, administer 10 mg per kg body weight of Exacyl

intravenously

together with replacement therapy. Following surgery, a dose of 25 mg per kg body weight may be given orally three or four times daily for 2 to 8 days.
Exacyl 25mg per kg body weight can also be administered orally, 3 to 4 times a day beginning one day before surgery.
For patients unable to take oral medication, Exacyl injection can be administered in a dose of 10 mg/kg bodyweight 3 to 4 times daily.
Clinical Pharmacology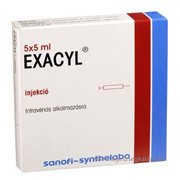 Exacyl is a competitive inhibitor of plasminogen activation and a noncompetitive inhibitor of plasmin. In concentrations up to 10 mg per ml blood, the drug has no influence on the platelet count, the coagulation time or various coagulation factors in whole blood or citrated blood from normal subjects. On the other hand, Exacyl add in concentrations of 10 mg and 1 mg per ml blood prolongs the thrombin time.
Exacyl Contraindications
Tranexamic Acid is contraindicated in;
Patients with a history of subarachnoid hemorrhage.
Patients with color blindness. This might prohibit measuring the toxic effects of the drug on the retinal changes on long-term usage.
Exacyl should also be avoided in patients with active intravascular clotting tendency.
Related Links