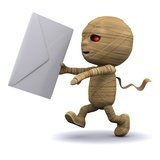 It doesn't really matter what type of niche your website belongs to. Whether you are a blogger, an affiliate marketer or an online seller, you can't be successful (at least not in the long term) if you failed to build a regular stream of targeted traffic to your website. Most new comers in the world of online marketing totally ignore email list building and believe, email Marketing is Dead! While the hidden reality is; "Building an email list is one of the proven to be effective and time tested techniques to bring the right audience to your website". Don't take my words on it, just ask yourself a question;
If eMail Marketing is Dead or Building an eMail List Is No Longer Effective Then Why Does Every Social Network Asks For Your eMail Address When You Signup?
Email Marketing Vs Social Media
Before going further with this post I want to clear something that I am not against Social Media Marketing. My objective is to guide new comers towards a right direction to success. Social Media is great, you should use it to promote your blog or business. But it is not wise to put it ahead of email marketing.
If you take a look over the history, All these Social Networks come and go. MySpace, Plurk, Buzz and countless others are examples from the past. Today it's Facebook and Twitter. Researchers has discovered, InstraGram and Vine are becoming the hot favorites and Facebook is losing its popularity among the new generation.
Social Media Posts Vs Daily Emails
2.9 Billion people across the globe check their inbox every single day! Daily Posts on Facebook and Twitter combined, Make only 0.2% of the total number of emails sent daily.