Though it is quiet unusual for anyone to change his/her name but even then, if for any reason you want to edit your name on Facebook, you can do it by following the steps below. Before proceeding further please keep in mind, Facebook allows you to change your name up to 4 times. Once you reached this number, your name is no longer editable in your Facebook Account. Please do not use fake names on any of the social networks including Facebook, Twitter and LinkedIn etc.
Steps To Change Name on Facebook
Login To Your Facebook Account and Click Settings Icon, Located At The Top Right Corner of The Screen (See The Snapshot Below)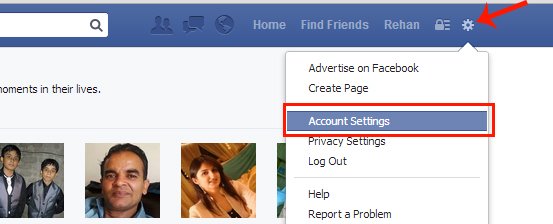 From The Dropdown Menu, Click "Account Settings". Doing This Will Take You To The "General Account Settings" Page (As Shown in The Image Below).

In The Name Field, Click "Edit".
Enter The New Fisrt Name, Maiden Name and Last Name
 Facebook Asks You To Enter Your Password (enter it)
Click "Save Changes" Button
Thats It!
Sometimes It Takes Up To 24 Hrs To Approve Your Edited Name On Facebook.
Related Links