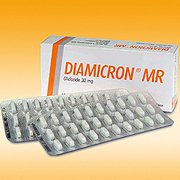 Like all medicines Diamicron MR 60 mg can cause side effects, although not everybody gets them. The most commonly observed side effect is low blood sugar (hypoglycemia). If an episode of low blood sugar is severe or prolonged, even if it is temporarily controlled by eating sugar, you should seek immediate medical attention. Below is a system-wise list of Diamicron MR Side Effects.
Diamicron MR Side Effects – Liver Disorders
There have been reports of abnormal liver function, which can cause yellow skin and eyes. The symptoms generally disappear if the medicine is stopped. Your doctor will decide whether to stop your treatment.
Other side effects of Diamicron MR 60 mg include;
Side Effects on Skin


Skin reactions such as rash, redness, itching and hives and rarely reported.

Side Effects on the Blood


Decrease in the number of cells in the blood (e.g. platelets, red and white blood cells) which may cause paleness, prolonged bleeding, bruising, sore throat and fever have been reported. These symptoms usually vanish when the treatment is discontinued.

Side Effects on the Digestive System


Abdominal pain, nausea, vomiting, indigestion, heartburn, diarrhea, and constipation. These side effects are reduced when Diamicron MR 60 mg is taken with a meal as recommended.

Eve disorders


Your vision may be affected for a short time especially at the start of treatment. This effect is due to changes in blood sugar levels.
With sulfonylurea, cases of severe changes in the number of blood cells and allergic inflammation of the wall of blood vessels have been described. Symptoms of liver impairment (e. g. jaundice) have been observed which in most cases disappeared after withdrawal of the sulfonylurea, but may lead to life-threatening liver failure in isolated cases.
If any of the side effects gets serious, or if you notice any Diamicron MR side effects not listed on this page, please tell your doctor or pharmacist.
Related Links