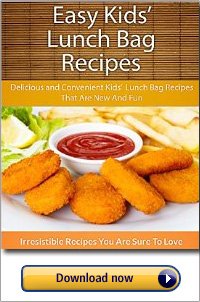 Kids Love to Be Creative, And That Shouldn't Be Limited to the Art Class. When packing your child's lunch bag meal, don't forget to add some fun. Cut up fruits or veggies and given them dipping sauces, cut sandwiches into fun shapes, make fruit skewers, and use brightly colored containers that separate food components that your kids can mix themselves. These simple touches make lunch more exciting, enticing your kids to eat more healthy foods.
You're Not Limited by Foods That Don't Need Refrigeration
Don't forget that if you get your child a nice, insulated lunch bag with cooling inserts, you can pack nearly anything for them. You're not limited by foods that don't need refrigeration as you may have needed to do in the past. Pasta salad, sushi, salads, wraps, chicken nuggets, and even your child's favorite leftovers from dinner make great, interesting lunch bag meals.
Kid's lunch bag meals are important. Not only do kids love having a great home-packed lunch, they can provide much needed energy and nutrients to your child's diet that will help them succeed and thrive throughout the second half of their day. If your child has a boring lunch that they don't want to eat, they won't eat, and their performance will suffer. So next time you're packing that lunch bag meal, throw in some fun, fresh, and healthy foods that will brighten your child's day and get them excited about good nutrition.
Related Links