Blotim 0.25%
Each ml contains Timolol Maleate 3.4mg (equivalent to Timolol 2.5mg)
Blotim 0.5%
Each ml contains Timolol Maleate 6.8mg (equivalent to Timolol 5.0mg)
What is Blotim Eye Drops Used For?
Blotim offers an effective, safe, convenient and dependable way to reduce the elevated IOP in following conditions;
Chronic open-angle glaucoma including glaucoma in aphakic patients and children.
Ocular hypertension.
Some patients with secondary glaucoma, e.g. steroid induced glaucoma.
Patients with narrow-angle glaucoma in combination with miotics.
Recommended Dosage and Administration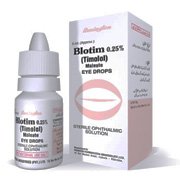 Treatment is usually initiated with one drop of Blotim 0.25% in the glaucomatous eyes twice-a-day. In case the reduction of IOP is not satisfactory, the patient is advised to switch over to one drop of Blotim 0.5% in the glaucomatous eyes twice-a-day. At the basis of his clinical experience, the ophthalmologist can initiate treatment directly with Blotim 0.5%.
Maintenance Therapy
Once the IOP is effectively controlled, the dosage may be reduced to one drop once-a-day.
Concomitant Therapy
Blotim may also be used in combination with miotics, adrenaline or oral carbonic anhydrase inhibitors.
Shifting From Other Drugs
Monotherapy
Add one drop of Blotim 0.25% twice-a-day to the usual daily routine of the drug already in use. On next day, use only Blotim 0.25% if the response is inadequate, switch over to Blotim 0.5% one drop twice-a-day.
Combination Therapy
When more than one anti-glaucoma drugs are in use, the doctor should decide on patient to patient basis. It may be possible to discontinue some or all other agents. Adjustment should be made to one drug at one time. Blotim, when used in addition, is also effective in lowering IOP in patients who respond inadequately to the maximum dose of other anti-glaucoma drugs.
Contraindications of Blotim Eye Drops
Bronchospasm, including bronchial asthma
Chronic obstructive pulmonary disease
Uncontrolled cardiac failure
Hypersensitivity
Special Precautions
Like other topically used drugs, Blotim may get absorbed systemically. Hence Blotim should be used with caution in patients with a contraindication to the systemic use of beta-blockers e.g. Betaloc Zok (Sinus bradycardia, greater than first degree heart block, cardiogenic shock, diabetes).
Blotim may have an additive effect to the orally used beta-blockers and in such patients a proper monitoring of the dosage is necessary.
In rare cases, dry eyes have been reported with constant use of Blotim Eye Drops. If such reactions are not explicable by any other way, the drug should be discontinued. All beta-blockers should be withdrawn gradually.
While using Blotim during pregnancy, the possible hazards should be weighed against the expected benefits.
Blotim Side Effects
Blotim is one of the safest drugs used in glaucoma, however, rarely some of the patients may experience, the following side effects.
Ocular irritation (conjunctivitis blepharitis and keratitis), visual disturbance including refractory changes due to withdrawal of miotics, diplopia and ptosis.
Aggravation or precipitation of certain cardiovascular, pulmonary and other disorders presumably related to beta-blockers, have been reported. These include bradycardia, arrhythmia, hypotension, syncope and bronchospasm (predominantly in patients with preexisting: bronchospastic disease). Respiratory failure, congestive heart failure and masked symptoms of hypoglycemia in insulin dependent diabetes have been reported rarely.
Cerebrovascular ischemia and cerebrovascular accidents have also been reported in rare cases.
Other side effects of Blotim Eye Drops include headache, asthenia, nausea, dizziness, depression, localized or generalized rash and urticaria.