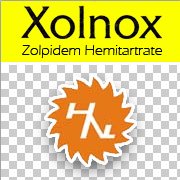 Xolnox is chemically Zolpidem Hemitartrate that belongs to the imidazopyridines class of drugs. It is used as an effective treatment for the patients of Insomnia. Each Xolnox film coated scored tablet contains Zolpidem Hemitartrate 10 mg.
The effect of Xolnox is linked to a specific agonist action on the central receptors which are part of the "central macromolecular GABA-benzodiazepine receptors" responsible for the modulation of the chloride channels. Xolnox shortens the delay of sleep onset, reduces the number of waking episodes, increases the total duration of sleep and improves the quality of sleep.
Xolnox – Pharmacological Tolerance
Studies recording night sleep have shown that this drug prolongs stage 2 as well as the stages of deep sleep (3 and 4). The amount of deep sleep generally reduced in adults and decreased by hypnotics is brought back towards a physiological level by Xolnox. At recommended dosage, Xolnox has no effect on the total duration of paradoxical sleep. After 6 months of treatment, there was no evidence of withdrawal problems, rebound insomnia or pharmacological tolerance on stopping the treatment.
Dosage and Duration of Treatment
The dosage of Xolnox should be adapted individually. It is usually one 10 mg tablet, it may be increased to 15 mg or 20 mg according to the patients, response i.e. 1 ½ tablets or 2 tablets. It is strongly recommended that patient should take Xolnox just before going to the bed.
In patients over 65 years of age, the recommended starting dosage of Xolnox is 5mg or half-tablet and the dosage should not exceed 10mg or one tablet.
Side Effects
Xolnox Side Effects appear in relation with the dose and the individual sensibility of the patient (in particular elderly subjects) the following undesirable effects have been reported.
Sensations of vertigo
Drowsiness
Asthenia
Nausea
Vomiting
Contraindications
Xolnox should not be administered to the children younger than 15 years of age.
Xolnox – Use in Pregnancy and Lactation
Although no teratogenic or embryotoxic effect of Xolnox has been shown in animal studies, as a measure of precaution, it should not be administered during pregnancy. Xolnox (zolpidem) passes only to a small degree in the breast milk, so, it is not recommended for nursing mothers.