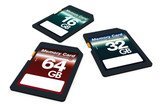 A few days back my wife accidently deleted all the photos on her android phone's SD card. She is a simple house wife and is not so tech savvy. She came to me and asked; is it possible for you to find a way to recover the data I just lost from my phone's memory card?
I have been using a couple of data recovery software for many years. I successfully used them to recover data from hard drive in the past. But I never got a chance to use those software to recover deleted files from a SD card before that. I did a little research in order to find a better option for this purpose. There are hundreds (if not thousands) of data recovery software. It was impossible for me to test all of them. However, below is a list of 3 most powerful and simplest software to recover deleted files from SD card. The good news is all of the 3 have a trial version. Download these data recovery tools for free and see how easy it is to recover your deleted photos, music and more than 550 other file types not only from your phone's SD card but from any device that you use to store data.
1. Wondershare Data Recovery
In my list of the best file recovery software, Wondershare data recovery (WS for short) is top of the list for a couple of reasons. This program is not only faster than some of the more popular data recovery tools out there, but the paid version is also cheaper than many of them. WS is very easy to operate and takes lesser time to recover data from SD cards, hard drive, external hard disks, USB drives, mobile phones, digital cameras, iPod and almost every device that you use to store your valuable data. Moreover it also helps you recover files from a formatted hard drive. Wondershare data recovery is available in both Windows and Mac versions. Download the free version of WS here.
2. EaseUS Data Recovery Pro
EaseUS is a very good alternate to the Wondershare data recovery tool. Although it is a bit slower than WS (and a bit costly too) but I have found it to be one of the best software I ever used to recover lost files. As long as you are not interested to purchase the paid version of the software you don't have to be worried about the cost. Download the latest Free version of EaseUS Data Recovery.
3. Remo Recover
This file recovery tool comes on number 3 on my best data recover software list. But it doesn't mean it is not a good option. In fact the best thing I experienced about Remo Recover is that, it works better than the top 2 when you need to recover data from a re-partitioned drive. However, this software is slower when you use it to recover deleted files from SD card and other devices. In addition to the Windows and Mac versions, Remo Recover also has an Android version too. The latest free version of the software can be downloaded from the official website.