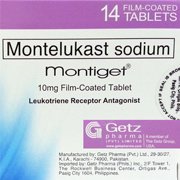 Montiget contains Montelukast Sodium as an active ingredient which is a selective and orally active leukotriene receptor antagonist. Montiget inhibits the cysteinyl leukotriene CysLT1 receptor, stimulation of which by circulating leukotrienes is thought to play a role in the pathogenesis of asthma. Montiget effectively suppresses both early and late Broncho-constrictor responses to inhaled antigens or irritants, but it is not suitable for the management of acute asthma attacks.
What Is Montiget Used For?
Indications
Montiget (Montelukast sodium) is indicated in adult and pediatric patients of 6 months of age and older for the prophylaxis and treatment of asthma including:
The prevention of day and night time symptoms
The treatment of aspirin-sensitive asthmatic patients
The prevention of exercise-induced bronchoconstriction
Montiget is also indicated for the treatment of symptoms of allergic rhinitis e.g.
Seasonal allergic rhinitis in adults and paediatric patients 2 years of age and older
Perennial allergic rhinitis in adults and paediatric patients 6 months of age and older.
Montiget – Mechanism of Action
Montiget selectively antagonizes leukotriene D4 (LTD4) at the cysteinyl leukotriene receptor, CysLT1, in the human airway. It inhibits the actions of LTD4 at the CysLTl receptor, preventing airway edema smooth muscle contraction and enhanced secretion of thick, viscous mucus.
Pharmacokinetics
Absorption
After oral administration, Montiget gets rapidly absorbed and achieves peak plasma concentration within 2 to 4 hours. The mean oral bioavailability of this drug is 64%.
Distribution
Montiget is more than 99% bound to plasma proteins. The mean plasma half-life of this drug ranged from 2.7hrs to 5.5hrs in healthy young adults. The pharmacokinetics of Montiget is nearly linear for oral doses of up to 50mg.
Metabolism
Montiget is extensively metabolized in the liver by the cytochrome P450 iso-enzymes CYP3A4, CYP2A6 and CYP2C9.
Elimination
The plasma clearance of this drug averages 45ml/min in healthy adults. Montiget and its metabolites are excreted primarily in the feces via the bile.
Montiget Dosage and Administration
The therapeutic effect of montiget on parameters of asthma control occurs within one day. Montiget Tablets can be taken with or without food. Patients should be advised to continue taking the drug while their asthma is controlled as well as during periods of worsened asthma. Montiget should be taken once daily. For asthma, the dose should be taken in the evening. For seasonal allergic rhinitis, the time of administration may be individualized to suit patient needs.
Patients with both asthma and seasonal allergic rhinitis should take only one tablet daily in the evening.