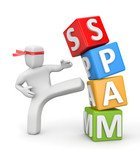 In order to prevent spam, the comment section of my self-hosted WordPress blog is completely disabled since day one. Okay… not completely, the system needs you to be logged-in to share your thoughts. Only registered members are allowed to post a comment and in reality the membership is not open to everyone. I am aware of how important it is to know what the readers have to say about my posts. The visitors of my blog deserve the freedom to comment about what they actually like or dislike about this website. But I don't have time (and of course stamina) to fight with comment spammers. There are a couple of free services that claim to help you prevent spam comments. But I strongly believe; if you are not paying for it, you are the product!
I Will Prefer To Stay Away From Disqus!
One of my friends suggested me to use Disqus as a tool to prevent comment spam. I signed-up with the service but I did not activate it on my blog because of a couple of things I read in their terms of service. For those of you who never heard about this option before, Disqus is a free tool that helps you fight comment spam. If you are interested to know more about it, Go Here, but be advised; if you are not paying for it, you are the product!
Why I Don't Like Disqus?
Comments from your readers are not only a way to get a free advice on how to improve your posts, but, it is also an effective way to have some great (and original) user generated content for free. Using Disqus to handle your blog comments means you are outsourcing this section to a third party. In other words there will be no user generated content on your blog because all the comments from your readers will be hosted on Disqus's servers. The worst thing is; all the comments that you or your readers post through Disqus will be used to target ads. Yes! You heard that right. They earn real money from the content that was generated through your blog readers. Moreover, they clearly state in their terms of service that your personal identifiable information that you pass to them (when connecting a third party e.g. FaceBook with your Disqus account) may be sold, together with any information you publicly share via Disqus.
Does Akismet Work?
I am unable to say anything about Akismet right now. I have heard about it a lot from many seasoned bloggers out there. I got my Akismet API key today and have activated this plugin just a few minutes ago. I have also enabled the comments section now. Let see if it is what I have been looking for. Soon I'll share my experience with this famous comment prevention tool.
Stay Tuned!