In the heart of Salzburg, on the quiet Salzach promenade and overlooking the Hohensalzburg fortress, is the city's grand hotel: The Hotel Sacher Salzburg.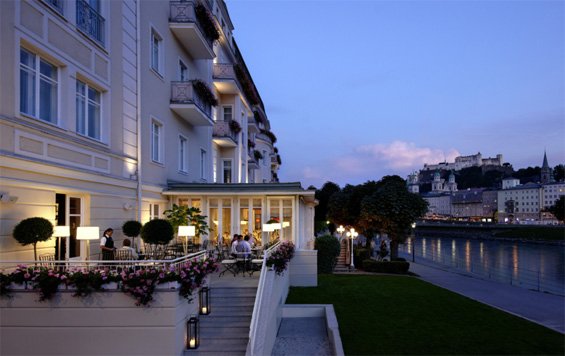 Since 1866, the hotel has remained at the very center of the city's social life. Recently renovated rooms and suites and a host of luxurious amenities await your discovery.
Dinning at Hotel Sacher Salzburg
The gourmet restaurant Zirbelzimmer, Salzachgrill, Café Sacher, piano bar and restaurant terrace feature international cuisine and regional specialties. Sacher Confectionary Shop, where the Original Sacher-Torte is available.
Sports at Hotel Sacher Salzburg
Fitness center with sauna
Steam bath
Solarium and massage
Skiing
Swimming and Tennis nearby
Additional Features
115 Rooms
3 Suites
Accepts Major Credit Cards
The Hotel Sacher Salzburg also offers Conference and banquet rooms, Business center, secretarial service, Concert and ticket service, Non-smoking rooms, Limousine service and garage.
Contact Information
Hotel Sacher Salzburg is kilometers from the Railway Station and 5 kilometers from the Salzburg Airport.
Postal Address
Schwarzstrasse 5-7, A-5020 Salzburg – Austria
Telephone Number
(43-662) 88-9-77
Fax Number
(43-662) 88-9-77-14
Email Address
[email protected]
Related Links
Have you stayed at the Hotel Sacher Salzburg? Please share your experience in the comments section below.