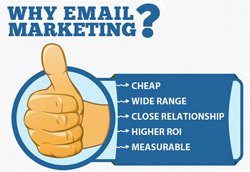 Email marketing's complexity has steadily grown, more of the return has migrated higher up the sophistication ladder. Although there's still plenty of low-hanging fruit, some of the sweetest fruit can only be reached with the savvy use of best practices, advanced targeting and automation, and cross-channel integration. This is as much a manpower and know-how gap as it is a technological gap, given that the majority of the functionality offered by email service providers goes unused by most marketers.
Why Email Marketing Is Better Than Social Media?
Email marketing's return on investment is significantly higher than that for paid search and way higher than the ROI of social media, direct marketing, and every other channel. That's because email marketing has a number of compelling and unique characteristics.
Email is a one-to-one communication channel and used daily by nearly everyone, giving it unparalleled targeting capabilities and reach.
Consumers overwhelmingly prefer to receive commercial messages via email, because it's less intrusive and more convenient, searchable, and eco-friendly than other channels.
Although other channels excel at raising awareness, acquiring customers, and fostering conversations, email marketing is THE power channel for retention marketing. Consumers strongly associate email marketing with deals, product information, and service notifications, making it unrivaled at driving sales and boosting loyalty.
Email is immediate, thanks to the growing adoption of mobile devices and the fact that checking email is the No. 1 activity on smartphones—even more popular than making phone calls.
But email's impressive power obscures an unfortunate truth:
Poor practices are blunting email marketing's effectiveness and keeping its ROI from being truly awesome.
Following the best email marketing practices is critical to achieve spectacular results. Click Here to discover some unusual tips to unlock incremental improvements in your email program, and the combinations of practices that maximize delivery success, list growth, relevance, and other key goals that are the foundation of email marketing success for small businesses.
Related Links