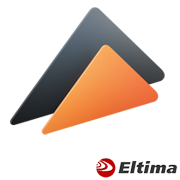 Sooner or later we come across a situation when Mac's native player (QuickTime) refuses to playback a video. It happens more often to those who just switched from Windows to Mac and haven't figured out yet, which formats are 'friendly' and which are not. Although getting into such technicalities is not necessary if you have a robust media player that can solve the formats problem once and for all. Having done an extensive research, I zeroed in on Elmedia Player, or rather its PRO version that offers a few interesting features. The player has been rewamped recently and looks quite attractive.
Mac Player that handles everthing!
Elmedia Player supports virtually all video formats – FLV, SWF, XAP, WMV (Silverlight), RM, RV (Real), AVI, MOV, MP4, DIVX. No need to switch between multiple apps to playback videos of different formats, no need for Perian system plugin, the latter by the way is not supported anymore.
Download Media from YouTube and Other Websites (PRO)
This functionality is the answer to your eternal "How to download a YouTube video?" question. Elmedia features an integrated web browser. Use it to open a website, and you will see at the bottom of the browser window all media files available for download. Not only can you save a video from YouTube, the player enables you to extract a soundtrack from it. This trick works on other video hosting web sites too. Go ahead and click the link!
Make Use of Convenient Controls
Elmedia Player offers an independent volume control, a feature sorely missed in other players such as QuickTime. Now you can mute your system sound and enjoy watching a movie, no loud Skype call will startle you.
Take Screenshots (PRO)
While capturing screenshots on Mac is easy in general, doing it while watching a movie is not a straightforward issue. Elmedia player has a built-in feature that enables taking screenshots. You can grab one still image or make a series of them and choose the frame you like most. You can also set an interval at which the screenshots are taken.
Playlist Support
All the media Elmedia Player downloads for you from the Internet automatically goes to the internal playlist. Add your series and other videos there so that you do not have to search for an episode on your hard drive each and every time you feel like watching it.
The rewamped Elmedia Player has been functioning well. It looks pretty much like the standard player for Mac in OS X Yosemite. The only difference is the orange color of control elements. Once you download and install Elmedia Player, make it the default media player.
The app is available for download from Eltima's official website. The player is free, additional benefits of PRO version will cost you $19.95.