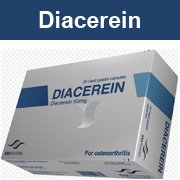 Generally, the drug has been well tolerated. However, the most commonly reported Diacerein side effect is acceleration of the intestinal transit (diarrhea) is reported in almost 37% of the patients. Few cases of abdominal pains have been described. The modification of the dose in the initial periods of the treatment (2 to 4 weeks) has allowed to surpass or to diminish these adverse events.
Other Diacerein side effects include urine discoloration in 14.4% cases and a single case of hypokalemia, hepatotoxicity resulting into acute hepatitis and fatal toxic epidermal necrolysis (Lyell's syndrome).
Diacerein Drug Interactions
The clinical studies have demonstrated the absence of interaction between the drugs such as; warfarin, tolbutamide, aspirin (acetylsalicylic acid), chlorpromazine, indomethacin.
Diacerein Over Dosage
In cases of overdose it can produce a profuse diarrhea. The treatment must be symptomatic with correction of any electrolyte imbalance which may be necessary.
Contraindications
Hypersensitivity to diacerein or any of the components.
Diacerein Drug Warnings
It is recommended to initiate use of a Diacerein capsule by the night for the 2 to 4 first weeks since the use of the drug initially can produce an acceleration of the time of intestinal transit.
It is recommended to prolong the treatment by at least 6 months; the clinical studies have demonstrated that Diacerein can be used for 2 years without serious problems.
As with any other prolonged treatment, it is recommended to monitor laboratory parameters, including hepatic enzymes, every 6 months.
Combined use of Diacerein with laxatives is contraindicated.
Diacerein Use in Special Populations
Pregnancy
The use of Diacerein is not recommended in women attempting to conceive. No clinical data on exposed pregnancies are available for Diacerein. The potential for human risk in pregnancy is unknown.
Lactation
Pharmacokinetics of Diacerein has not been studied in lactating women and its administration is not recommended.
Pediatric Use
Pharmacokinetics of Diacerein has not been studied in pediatric population and its administration is not recommended in pediatric population.
Geriatric Use
Daily doses exceeding 100mg Diacerein may warrant close clinical monitoring in geriatric patients.
Hepatic Insufficiency
No significant difference in pharmacokinetic parameters of rhein between patients with liver impairment and healthy volunteers was observed either in plasma or in urine assessments. However, since cirrhosis may influence drug accumulation after multiple doses, close clinical monitoring is advised for patients with hepatic insufficiency.
Renal Insufficiency
In patients with mild-to-severs renal insufficiency, there was s significant increase in the area-under-the-curve and a decrease in the total apparent clearance compared to the healthy adults. Severe renal failure (creatinine clearance 10 to 27 ml/min) showed a significantly decreased renal clearance of rhein; therefore, a 50% reduction in the dose of Diacerein should be made in patients with severe renal insufficiency. Diacerein dose should be reduced by half in patients with a creatinine clearance less than 2.4 liters/hour.