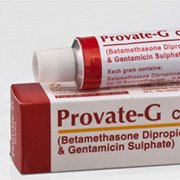 Do not use Provate if you have a history of sensitivity reactions to betamethasone dipropionate, other corticosteroids, gentamicin sulphate and salicylic acid or any components of Provate Cream/Ointment, Provate-G Cream, Ointment, Provate-S Ointment, Provate and Provate-S Lotion. Provate products are contraindicated in viral infections of the skin, such as vaccinia, varicella and herpes simplex, also tuberculosis, acne rosacea, fungal skin infections, perioral dermatitis and ulcerative conditions.
Side Effects of Provate
Most commonly mild to moderate burning, stinging, dry skin, pruritus and irritation. Other reactions with corticosteroids:
Hypertrichosis, hyperhidrosis, acneform eruptions, hypopigmentation, perioral dermatitis, allergic contact dermatitis, maceration of the skin, secondary infection, skin atrophy, striae and miliaria. Treatment with gentamicin has produced transient irritation (erythema and pruritus) that usually did not require discontinuance of treatment. Continuous application of salicylic acid may cause dermatitis. Salicylic acid and corticoid combination is reported to cause burning, dryness, sensation of pain and rhagades.
Provate Products in Pregnancy and Lactation
Provate products including Provate G Cream, are not recommended to be used in large amount or for prolonged periods of time. Cautions should be exercised when the drug is administered to nursing women. Decision should be made to discontinue therapy taking into account the importance of the drug to the mother.
Precautions
Discontinue treatment if irritation or sensitization develops and institute appropriate therapy. Administer antifungal or antibacterial agent with the presence of an infection. Any of the side effects that are reported following systemic use of corticosteroids, including adrenal suppression of topical corticosteroids will be increased if extensive body surface areas are treated or if the occlusive technique is used. Suitable precautions should be taken under these conditions or when long-term use is anticipated, particularly in infants and children. Use of topical antibiotic occasionally allows overgrowth of non-susceptible organisms including fungi. If this occurs or irritation, sensitization or superinfection develops, treatments with gentamicin should be discontinued and appropriate therapy instituted. Excessive or prolonged use of topical Salicylic Acid may cause symptoms of salicylism. Treatment of salicylism is symptomatic. Administer oral sodium bicarbonate to alkalinize the urine and force diuresis. Provate products should not be used in or near the eyes. Contact with the mucous membranes should be avoided.