Clinagel contains 1% w/w Clindamycin as Clindamycin Phosphate USP. Topically applied Clinagel may be absorbed in sufficient amounts to produce systemic effects.
Clinagel – Indications and Usage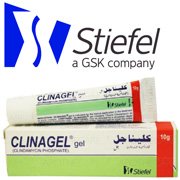 Clinagel Gel is indicated for topical application in the treatment of acne vulgaris. In view of the potential tor diarrhea, bloody diarrhea and pseudomembranous colitis, the physician should consider whether other agents ate more appropriate.
Clinagel – Dosage and Administration
Apply a thin film of Clinagel twice daily to the skin where acne lesions appear. Use enough to cover the entire affected area lightly. Keep container tightly closed.
Clinagel – Contraindications
Clinagel is contraindicated in individuals with a history of hypersensitivity to preparations containing clindamycin or lincomycin, a history of regional enteritis or ulcerative colitis, or a history of antibiotic-associated colitis.
Clinagel – Warnings
Orally and parenterally administered clindamycin has been associated with severe colitis, which may result in patient's death. Use of the Clinagel results in absorption of the antibiotic from the skin surface. Diarrhea, bloody diarrhea and colitis (including pseudomembranous colitis) have been reported with the use of topical and systemic clindamycin. Studies indicate a toxin(s) produced by Clostridia is one primary cause of antibiotic-associated colitis. The colitis is usually characterized by severe persistent diarrhea and severe abdominal cramps and may be associated with the passage of blood and mucus.
Endoscopic examination may reveal pseudomembranous colitis. Stool culture for Clostridium difficile and stool assay for Clostridium difficile toxin may be helpful diagnostically. When significant diarrhea occurs, Clinagel should be discontinued. Large bowel endoscopy should be considered to establish a definitive diagnosis in cases of severe diarrhea. Antiperistaltic agents, such as opiates and diphenoxylate with atropine, may prolong and/or worsen the condition. Diarrhea, colitis, and Pseudomembranous colitis have been observed to begin up to several weeks following cessation of oral and parenteral therapy with clindamycin.
Clinagel – Precautions
Avoid contact with eyes, nose, mouth, abraded skin or other mucous membranes.
Clinagel should be prescribed with caution in atopic individuals. Keep all medicines out of the reach of children.
Clinagel has been shown to have neuromuscular blocking properties that may enhance the action of other neuromuscular blocking agents. Therefore, Clinagel should be used with caution in patients receiving such agents.
Clinagel should be used during pregnancy only if clearly needed.
Clinagel Use in Nursing Mothers & Pediatric
It is not known whether clindamycin is excreted in human milk following use of Clinagel. However, orally and parenterally administered clindamycin has been reported to appear in breast milk. Because of the potential for serious adverse reactions in nursing infants, a decision should be made whether to discontinue nursing or to discontinue the drug, taking into account the importance of the Clinagel to the mother.
Safety and effectiveness of Clinagel Gel in children under the age of 12 have not been established.