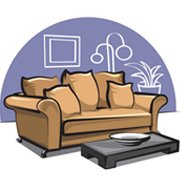 You may have heard that when it comes to purchase a couch, you really do get what you pay for. It may be true, but it doesn't mean that the couch of your dream will cost you a fortune. At least not if you buy it from the RIGHT place. In this post, you are going to discover some of the best places to buy couches on a budget. All of these online furniture retailers have been trusted by millions of Americans as well as customers from other corners of the planet.
Feel free to visit any of the following home furnishing stores, browse their complete collection of affordable seating furniture, and buy your favorite couches at best possible prices. The good news is, these websites also offer free shipping on most orders.
Top 10 Websites That Sell Affordable Couches Online
#1. Wayfair : The Widest Selection of Stylish & Most Affordable Couches!

Wayfair is one of our personal favorites. But that's not the only reason to place it at #1 on the list of couches retailers. Wayfair has the largest collection of highly customizable leather and fabric sofas, couches, sectionals and loveseats across the web.
Related Link: Other Websites Like Wayfair
#2. West Elm : Modern Sofas & Couches Under $999

Most people know West Elm as an upscale home furnishing store. That's true! West Elm really is one of the global leaders in contemporary and modern home furnishing. But if you visit this secret link, you'll find a great variety of sofas and couches featuring the same solid construction, highly quality materials and stylish designs that West Elm is known for!
Related Link: Modern Furniture Stores Like West Elm
#3. Amazon : Thousand of Unique Designs of Couches & Sofas

Amazon doesn't need an introduction, does it? The largest retailer across the web comes at #3 one our list of seating furniture retailers. Presently, Amazon has over 4000 unique designs of sectional sofas, sleeper sofas, reclining sofas, loveseats, futons, settees and convertibles. Click Here to check out the complete collection of discounted couches at Amazon.
Related Link: Other Stores Like Amazon
#4. Target : Couches Under $100

Target is the eighth largest chain of department stores in the United States. A couch from Target stores can be purchased for as low as $100. And yes, that couch will be of acceptable quality. Target offers free two-day shipping on all orders above $35.
Related Link: Stores Like Target Corporation
#5. Overstock : 15% OFF on Already Discounted Prices

Overstock has an impressive variety of comfortable and low-priced couches in various styles, colors and shapes. For a limited time, Overstock is offering an extra 15% OFF on its already discounted prices. Overstock also features a beautiful range of outdoor sofas, rustic sofas and mid-century modern sofa sets.
Related Link: Other Websites Like Overstock
#6. Walmart : Stylish Couches, Starting From $150

We wanted to complete this list without including Walmart. We don't really like that retail giant… 🙁 . But "Merit" was the only criteria to select furniture retailers for this post. So here it is, at #6. At the time of this writing, Walmart had almost 1000 unique designs of couches and sofas in stock.
Related Link: Stores Like Walmart
#7. World Market : Chic, Comfortable & Affordable Seating Furniture

World Market is a major furniture retailer that is primarily known for its unique offerings of imported furniture and home furnishing goods. Recently, World Market has added a wide range of new designs to its collection of chic, comfortable and affordable sofas and couches.
Related Link: Stores Like World Market
#8. IKEA : Fabric Sofas at Lowest Prices

IKEA is one of the largest producers of ready-to-assemble furniture in the world. The seasoned professionals at IKEA are known for their innovative ideas and products with a balanced combination of style and affordability. If you are looking for a two-seater or three-seater option, IKEA is one of the best places to find comfiest fabric couches on a budget.
Related Link: Affordable Furniture Stores Like IKEA
#9. Rooms To Go : Easy Installment Plans To Buy Sofas & Couches

In addition to a wide variety of discount sofas, Rooms To Go also offers an attractive financing plan. If you want to pay for your furniture in installments, Rooms To Go is one of the highly recommended furniture retailers for you.
Related Link: Stores Like Rooms To Go
#10. Ashley Furniture : Vintage-Inspired Sectional Couches on A Budget

Whether you are a fan of contemporary and modern styles, or you are looking for a vintage-inspired sofa or sectional couch, Ashley Furniture is another great place to find what you need. The wide variety of stylish couches and affordable prices ensure that Ashley Furniture has something for every taste and budget.
Further Reading