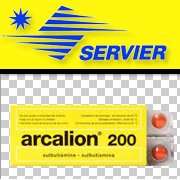 Arcalion 200 has specific neurotropic action. This results in better physical resistance, improved intellectual performance and psychological balance. Arcalion 200 contains (sulbutiamine) a new substance that is related to thiamine with important structural changes which explain liposolubility and Arcalion tablet's activity on specific cerebral structures.
What is Arcalion 200 Used for? – The Benefits
Arcalion Tablets can be used as an effective symptomatic treatment of functional asthenia, physical and intellectual overwork. Moreover Arcalion 200 is also very effective in the following conditions;
Memory disorders e.g. difficulty in concentration
Psychogenic impotence of recent onset
Reactive asthenia
Fatigue related to states of depression and anxiety
Fatigue following infections and operations
Fatigue in the post-partum period
Menopausal psychosomatic disorders
Geriatric psychosomatic disorders
The Recommended Dosage of Arcalion Tablets
Dosage: 2 tablets with breakfast – For adult use only. The dose can be increased to 3 tablets daily in resistant cases.
 Arcalion 200 should not be taken in case of known hypersensitivity to sulbutiamine.
Arcalion 200 During Pregnancy and Lactation
Pregnancy


No fetal toxicity or malformation has been reported. However, follow-up of women exposed to Arcalion 200 during pregnancy is insufficient to exclude such a risk. Therefore, as a precautionary measure, it is recommended not to use Arcalion 200 Tablets during pregnancy.

Lactation


As in pregnancy, the absence of data concerning the diffusion into breast milk, treatment with Arcalion Tablets is not recommended for nursing mothers.
Arcalion Side Effects
In general, it is safe to take Arcalion 200. Majority of patients does not experience any side effects at all. However, like any medicine, Arcalion may cause some undesirable effects for some patients. These occasional side effects of Arcalion 200 include;
Mild agitation in the elderly subjects
Allergic skin reactions
The urine may sometimes give out an odor
In case of overdosage, restlessness, euphoria, and tremor may appear. These symptoms are transient and leave no sequel.
Arcalion 200 can safely be combined with other drugs