Antial (Loratadine Tablet or Suspension) is a potent and long acting antihistamine with selective peripheral H1 receptor antagonists activity.
Each Antial Tablet contains Loratadine 10mg
Each 5ml of Antial Suspension contains Loratadine 5mg
Antial (Loratadine) Pharmacokinetics
Loratadine is well absorbed and extensively metabolized. It reaches measurable levels in plasma with in 15minutes and peak levels are achieved within 1 hour after single oral dose, while its elimination half-life is 18-24 hours. It can be given with or without food, since food does not affect the pharmacokinetics of Loratadine.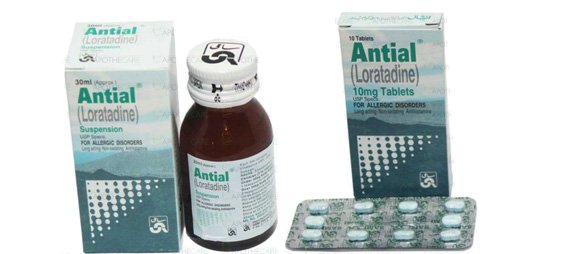 Antial Indications
Antial is indicated for the relief of symptoms associated with allergic rhinitis such as sneezing, nasal discharge (Rhinorrhoea), itching, ocular itching and burning, chronic urticaria and other dermatological conditions associated with allergy.
Drug Interactions
Antial does not potentiate the effects of alcohol. Antihistamines should be discontinued about 4 days prior to skin testing procedures, since Loratadine may prevent or diminish otherwise positive to dermal reactivity indications.
Over dosage
Following may arise if Loratadine taken in high dose (more than recommended dose) Somnolence, tachycardia and headache have been reported with over doses greater than 10mg.
Antial Side Effects
Most side effects reported during therapy with Antial were mild or moderate. However, following side effects may arise Fatigue, sedation, headache, nausea and dry mouth.
Contra-indications
Antial (Loratadine) is contra-indicated in those patients who have shown sensitivity or idiosyncrasy to any of its components.
Drug Warnings
Antial should be prescribed with caution in pregnancy and lactation since its safety is not established in such conditions.
Patients with impairment or renal insufficiency (GFR < 30ml/min) should be given a low initial dose (like dose of 10mg in alternate days).